Let us adapt, don't lay down
Actions to deal with climate changes.
With the contribution of the Cariparma Foundation.
Pilot project for environmental, biodiversity and water conservation.
Premise: for the conservation of the natural environment, water is a necessary resource. With climate change, the scarcity of water and long periods of drought are felt everywhere, especially in the province of Parma.
The proposal: Integrated pilot project for surface water conservation, restoration of ecological balance and protection of the environment.
Project objective: To create a model, a concrete example of the actions to be taken for the conservation of the environment and biodiversity.
Information and technical support center: Another consequent purpose is the creation of an information and technical support center on methods, materials, timing, costs and solutions of possible problems for the realization of projects aimed at environmental conservation, restoration of the ecological balance, safeguarding biodiversity, training on ortho-therapy and alternative energies, in general for the diffusion of environmental awareness among citizens in particular among young people, primary, middle and high school students.
For this purpose, the IRP headquarters has a fully equipped conference room and an agricultural land equipped with a greenhouse.
Information brochures will also be printed and a video and Facebook page will be produced.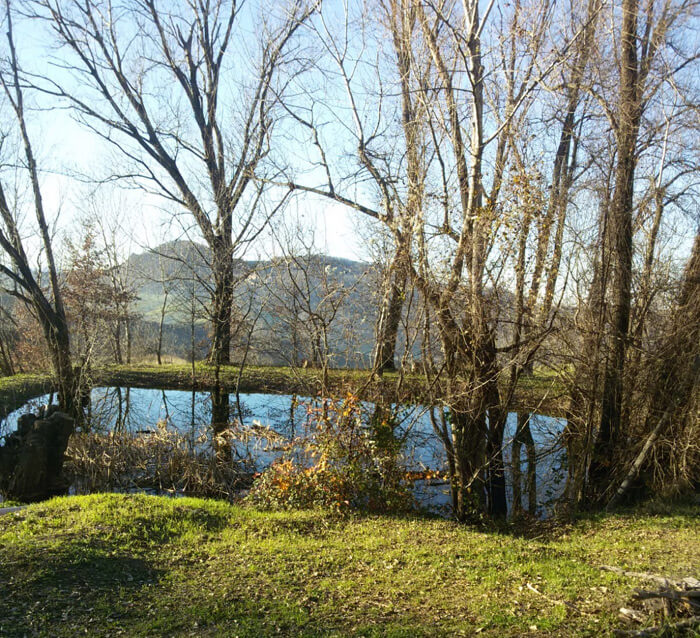 Description: The center of the project is a pond where rainwater from the roofs of neighboring buildings is collected, that which flows into the ground and that of a small spring. The dimensions of the pond are 16mt x 18mt, depth 2,50mt, with 45 ° slopes, protected by a fence.
The pond is waterproofed with an environmentally friendly sheath, certified for food use, which does not release substances of any kind or alternatively with bentonite powder and TNT sheet. Rows of trees are planted around the pond, up to 5 rows, with fast, medium and slow growing local plants, which in their shade will attenuate evaporation.
The pond and its banks will constitute an environment suitable for welcoming biodiversity: plants, animals, fish. The trees will serve as a refuge and habitat for many bird species, including aquatic ones.
Various species of fish will enter the pond and amphibians and reptiles will also arrive over time.
The water circulation pumps and all management will be automated and will use renewable photovoltaic energy.